Feinermix
---
Kunsthaus Mettmann
, Mettmann
Collage – Painting – Graphic
–
"Susanne Kamps' (master student of Hermann-Josef Kuhna) works radiate with colours and joie de vivre. Sometimes it is a dressing table with all the clutter, not to forget her cat Seraphine, or beautifully laid out food such as oysters and cheese, or the boulangerie 'Chez Monsieur Valeret' in Paris and other shopw windows - hats or delicatessens. " Hanna Eisenbart writing about Susanne Kamps in the newspaper Die Rheinische Post 01-12-2021.
A House on the Bridge
---
Museum Kaiserswerth
, Düsseldorf
Group Exhibition of Israeli and German Artists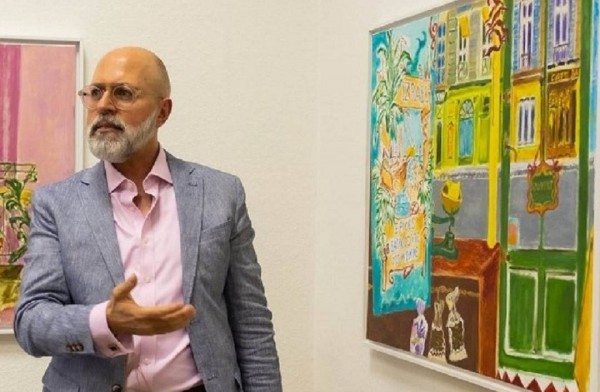 –
German art writer Frank Schablewsky talks about the paintings of Susanne Kamps at the opening of rhe exhibition in the Kaiserswerth Musuem on 01.10.2021.
Accrochage
---
Troner Art Gallery
, Düsseldorf
Gallery Artists and Newcomers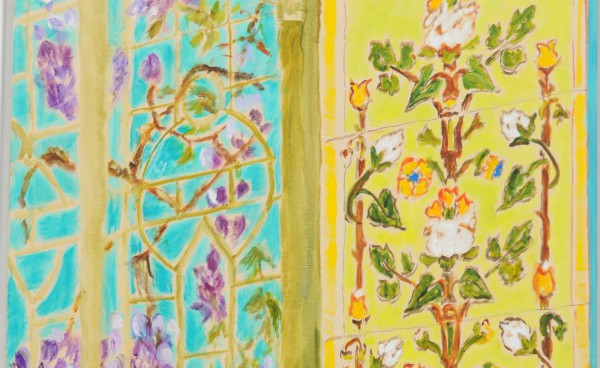 –
The Dusseldorf art gallery and consultancy founded by Anna-Maria Troner shows work by Susanne Kamps freshly painted during her stay at the Cite des Arts in Paris in a group show entitled "Connecting Gallery Artits with Newcomers" Sept. 3 until Oct. 4 2021.
Susanne Kamps extends stay at Cite des Arts in Paris
---
Three Months instead of Two
Susanne Kamps stays 3 months at the Cite Internationale des Arts in Paris, extending her original 2 month stay from July til the end of September 2021.
Susanne Kamps a prolongé son séjour à la Cité des Arts a Paris jusqu'à fin septembre 2021.
Sir Jacob Rothschild Admires Susanne Kamps' Paintings
---
Instagram Focus for Online Exchange
Sir Jacob Rothschild, 4th Baron Rothschild, has admired Suanne Kamps' paintings in a Reel on her Instagram page on 24 July 2021. The Baron's admiration led to an exchange of messages between the two. Upon being thanked, he replied: "It's my pleasure and I will encourage you to keep up with the beautiful art work." She then posted two works for him and he responded.
Sir Jacob, whose Instagram tag is #sir_jacob_rothschild1, is head of the British branch of the Rothschild family. Above is one of the paintings from Susanne's Reel, Paris Antique Shop (2019) oil on canvas, 80 x 100 cm.
Susanne Kamps shows in London via the Cynthia Corbett Gallery
---
Various Summer Art Events
Susanne Kamps will exhibit three oil paintings in London during summer 2021 starting 17 May as part of the Cynthia Corbett Gallery's participation in summer art events, including the gallery's in-residence show at The Exhibitionist Hotel in South Kensington, London Gallery Weekend (4-6 June) and the Kensington & Chelsea Arts Festival (24 June – 24 July).
US Art Historian Prof Paula Burleigh writes about Susanne Kamps
---
Role of Gender Explored - and the Element of 'Camp' in her Paintings
Read US art historian Prof Paula Burleigh's essay on the paintings of Susanne Kamps, where she explores the largely unremarked upon role of gender in Kamps' work - and the concept of Camp. Prof Burleigh is the director of the Allegheny Art Galleries and a professor of art history at Allegheny College in the USA, as well as having been a teaching fellow at the Whitney Musuem and a lecturer at the Museum of Modern Art in New York.
UK Art Critic Anna McNay writes about Susanne Kamps
---
Focus on the four works submitted for the 2019 Young Masters Prize
Read UK art critic Anna McNay's essay on the paintings of Susanne Kamps, focusing on the four paintings submitted by Kamps for the Young Masters Prize in 2019. McNay has worked at various arts publications including Arts Quarterly magazine and is a member of the International Association of Art Critics.
Click here to read the essay: susanne-kamps.de/en/texte/time-present-and-time-past
Carry on Creativity
---
Artsy online exhibition in support of UK charity Trussell Trust, Cynthia Corbett Gallery
, London
Online @Artsy in support of UK Charity
–
Susanne Kamps participates in the Cynthia Corbett Gallery's online show Carry on Creativity artsy.net in support of the Trussell Trust to stop hunger in the United Kingdom, exhibiting Susanne's oil painting Fortnum & Mason (2017, oil on canvas, 70 x 100 cm/28 x 40 in) from 4 May until 31 July 2020 online @Artsy. 25% of sales go to the Trust.
Have a look on artsy.net
Scope 2020 New York
---
Scope International Contemporary Art Show 2020
, New York
–
Susanne Kamps' work was shown at Scope New York at the stand of the Cynthia Corbett Gallery 5 to 8 March 2020.